Thank you for stopping by and checking out my work! I'm so thrilled to know that my stories and/or my other creations are being enjoyed and shared! I'm a daydreamer and I love what I do.
Snippets and Sneak Peaks was a spur of the moment creation. Yes, I know 'Peaks' is spelled technically wrong, that's what I was going for. You know, cliffhangers?
The idea was given to me by Tagan Brannon, one of my good friends, to make a sample book of all my work. So here I have a brief collection of random chapters from completed and still under construction stories. You get a little bit of fantasy, a bit of sci-fi and some urban adventure all rolled into one!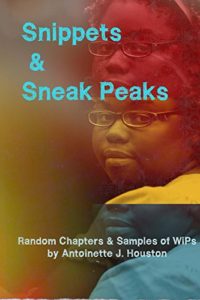 You can get your copy or ecopy from AMAZON!
Ecopy is only $.99! https://www.amazon.com/Snippets-Sneak-Peaks-Antoinette-Houston-ebook/dp/B074CJQ6R1
Paperback copy is $6.00 https://www.amazon.com/Snippets-Sneak-Peaks-Chapters-Antoinette/dp/1973953978